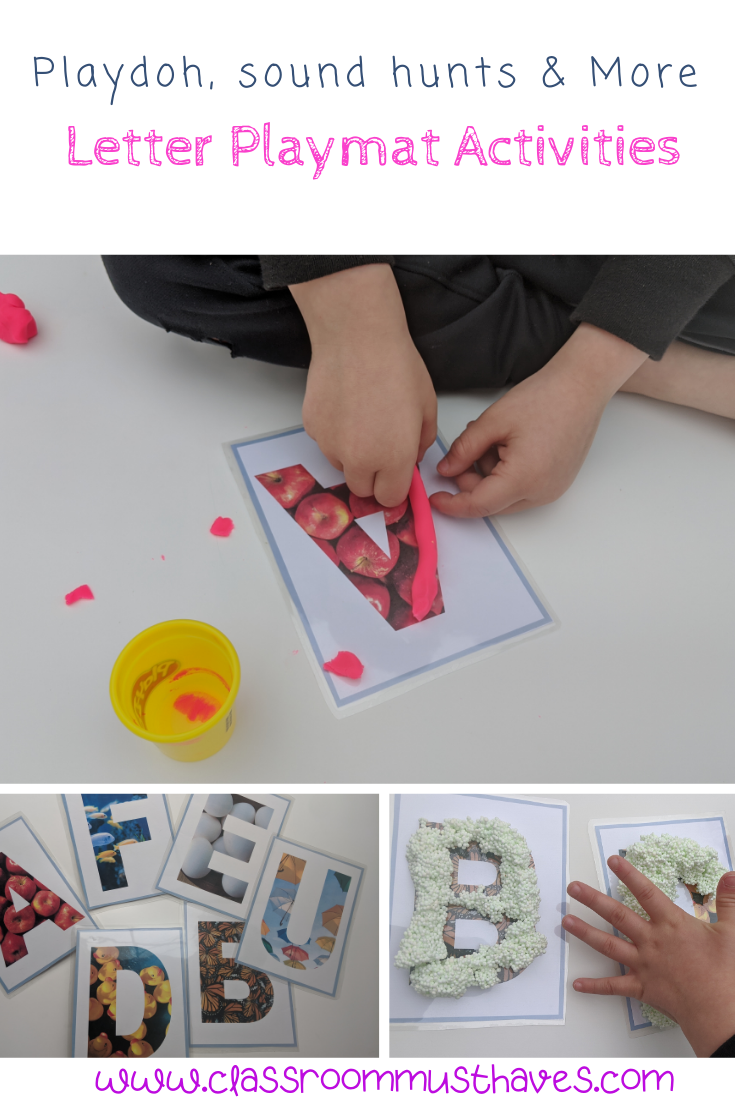 Are you looking for ABC letter playmat activities to help your preschooler or Kindergartner learn their letters and sounds? Check out my free letter playmats and fun activities below.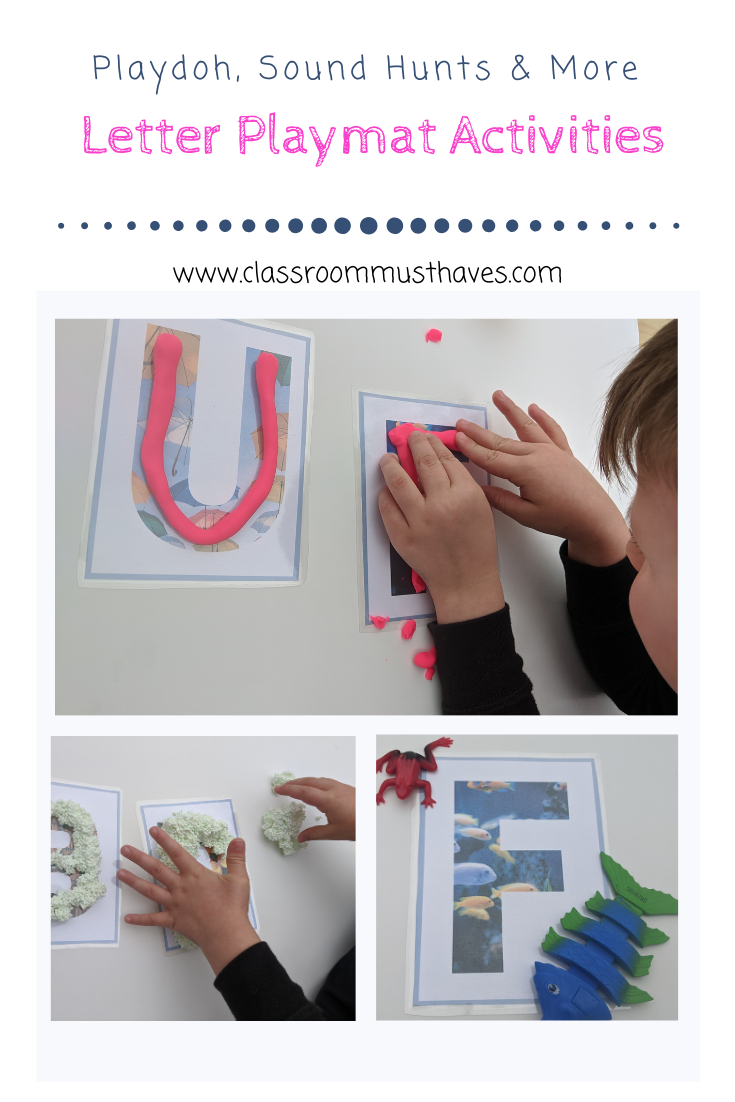 This post contains affiliate links to products for your convenience. If you purchase via my links, I may receive a small commission at no additional cost to you.
Letter playmats can be used with your students in a variety of ways to reinforce skills or simply learn the ABCs. We're going to explore how you can use them with Playdoh, sound hunts, simply as flashcards, or use them to create sentences!
Playdoh or Playfoam
Learning letters with Playdoh/Playfoam is probably my most favorite way to use the letter mats. All you'll need is some Playdoh or Playfoam, page protectors, and your student!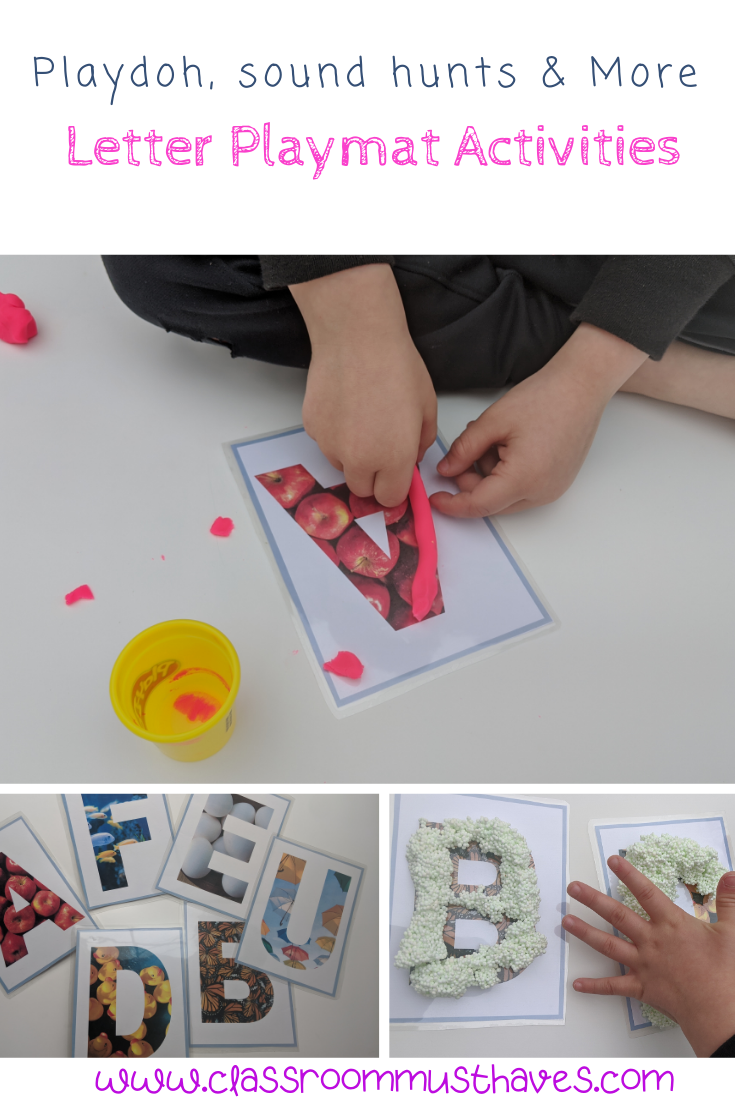 Place the cards you are working on into a page protector (or you can laminate for repeated use in a classroom) and then have your student form that letter out of Playdoh or Playfoam. After they form the letter(s) you can review the sound it makes and discuss the pictures on the mat.
This is a lot of hands-on fun for students and helps them practice forming letters!
Sound Hunt
Using the letter mats for a sound hunt is another activity your students will be sure to love! Here's what you need for the sound hunt:
1- Layout the letters you want your student to focus on on the table.
2-Review the sound the letters make. You can use the pictures on the letters as reference.
3- Have the student go on a hunt around the classroom or home and search for other objects that start with that same sound and place it on the mat.
*TIP* Setting a timer to limit the amount of time your student is on the hunt can be helpful.
4- Review the objects and beginning sounds with your student.
**Another alternative to going on a sound hunt is using ABC object photo cards and having your student search for the photo that starts with the beginning sound as well.
Flashcards
You can also use the Letter playmats simply as flashcards! The background of each letter has a photo that starts with the corresponding letter! Just spend some time and review the letters and pictures with your students each day and they will be sure to excel in their letter identification skills!
Create Sentences
You can use your letter cards and pictures to create sentences! This is great for storytelling, using words in sentences, grammar, and identifying letter sounds!
All you need to do is pick out which letter cards you would like to review with your student. Use the corresponding picture from the background of the card and have your student develop a sentence using that picture.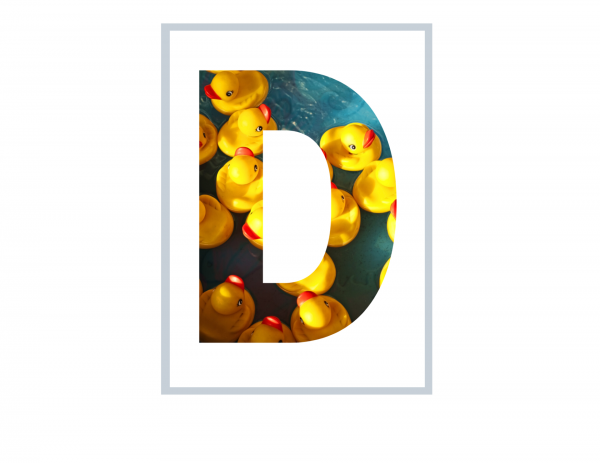 Example: D-Ducks
"I went to the pond and saw the ducks."
"Ducks are yellow."
"I saw a duck on the lake."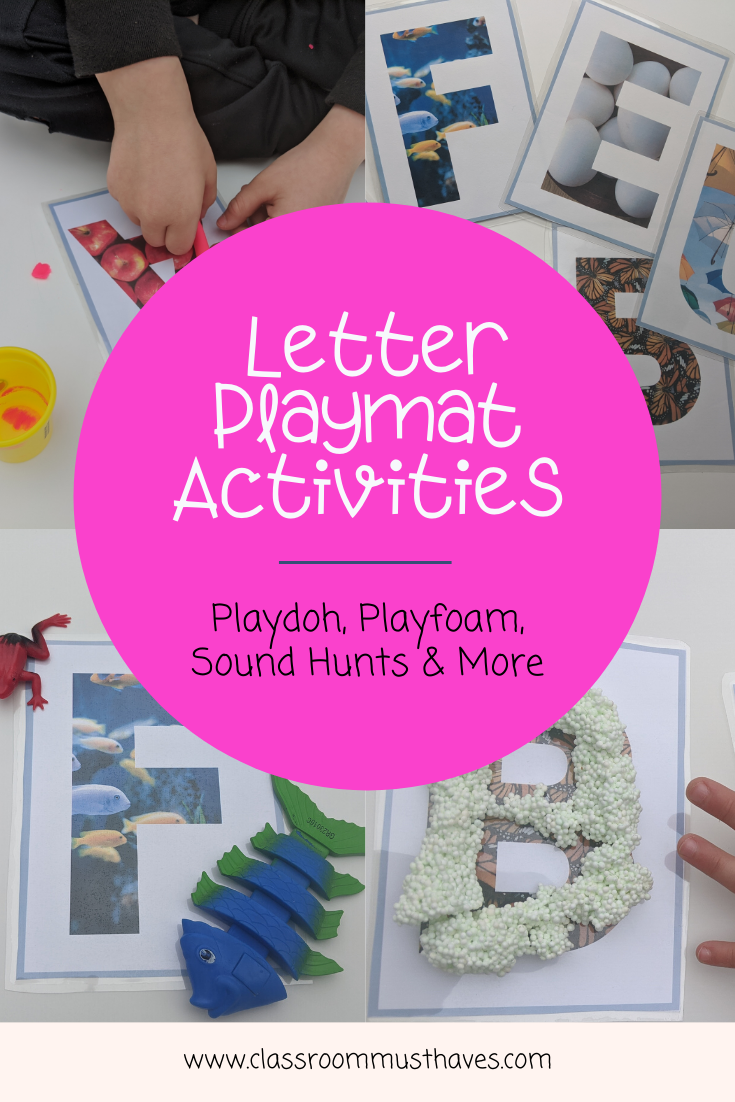 There are many different ways to use letter playmats! They are a great way to review letters, sounds, create sentences, and have some hands-on learning fun!
Don't forget to download your free Letter Playmat Printable below and check out what else Classroom Must Haves has to offer!
Be sure to check out our Free Printables, ABC activities, Learning to Read activities & more!
Also, don't forget to download my free Letter Playmat Printable and let me know below in the comments which activities your students liked the most!
Thanks for stopping by!