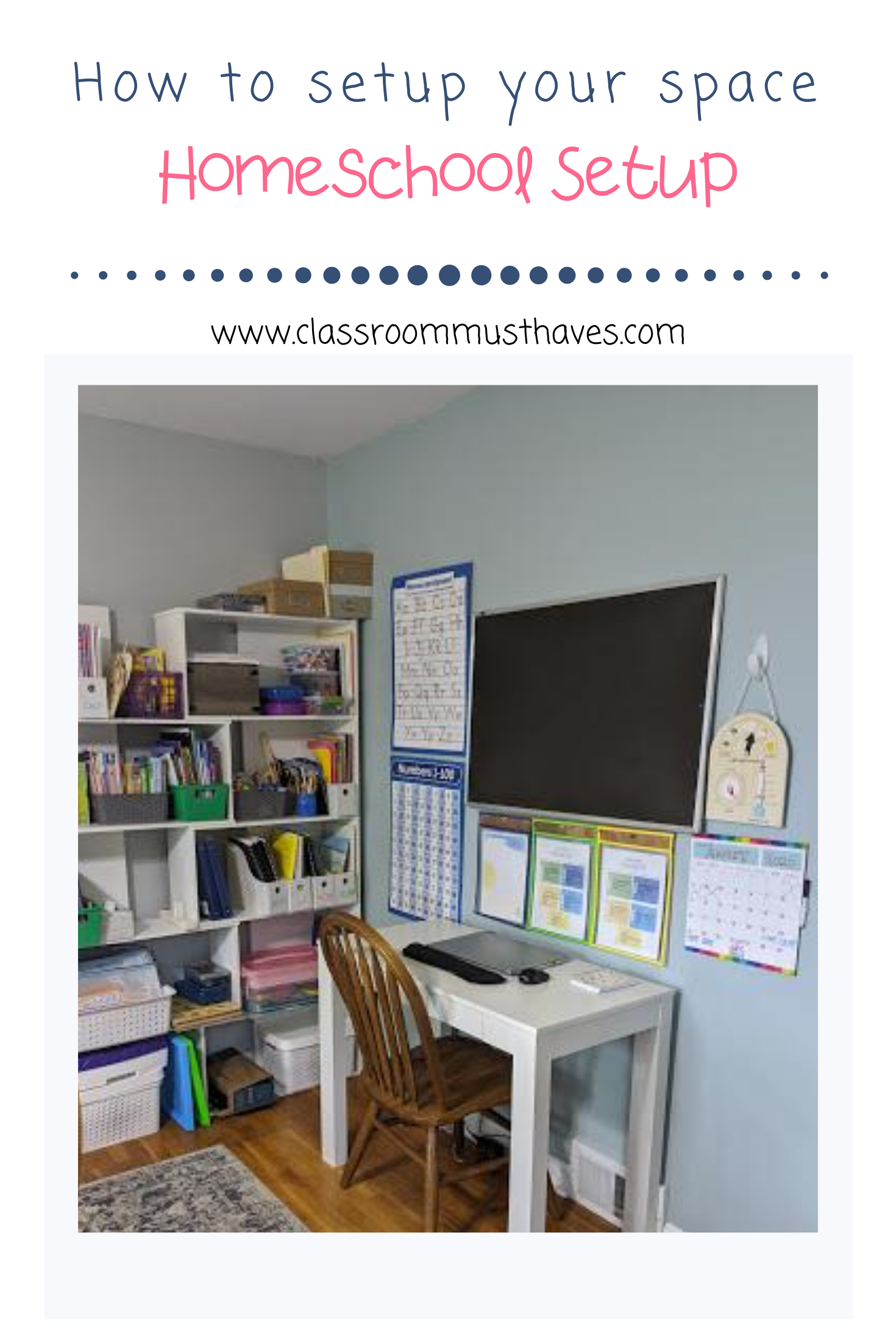 Thanks for visiting Classroom Must Haves for some tips on your Homeschool Setup!
To find some affordable school items that are on sale, be sure to check out our Facebook page Classroom Must Haves Deals & Sales to find daily sales and deals for your classroom/homeschool!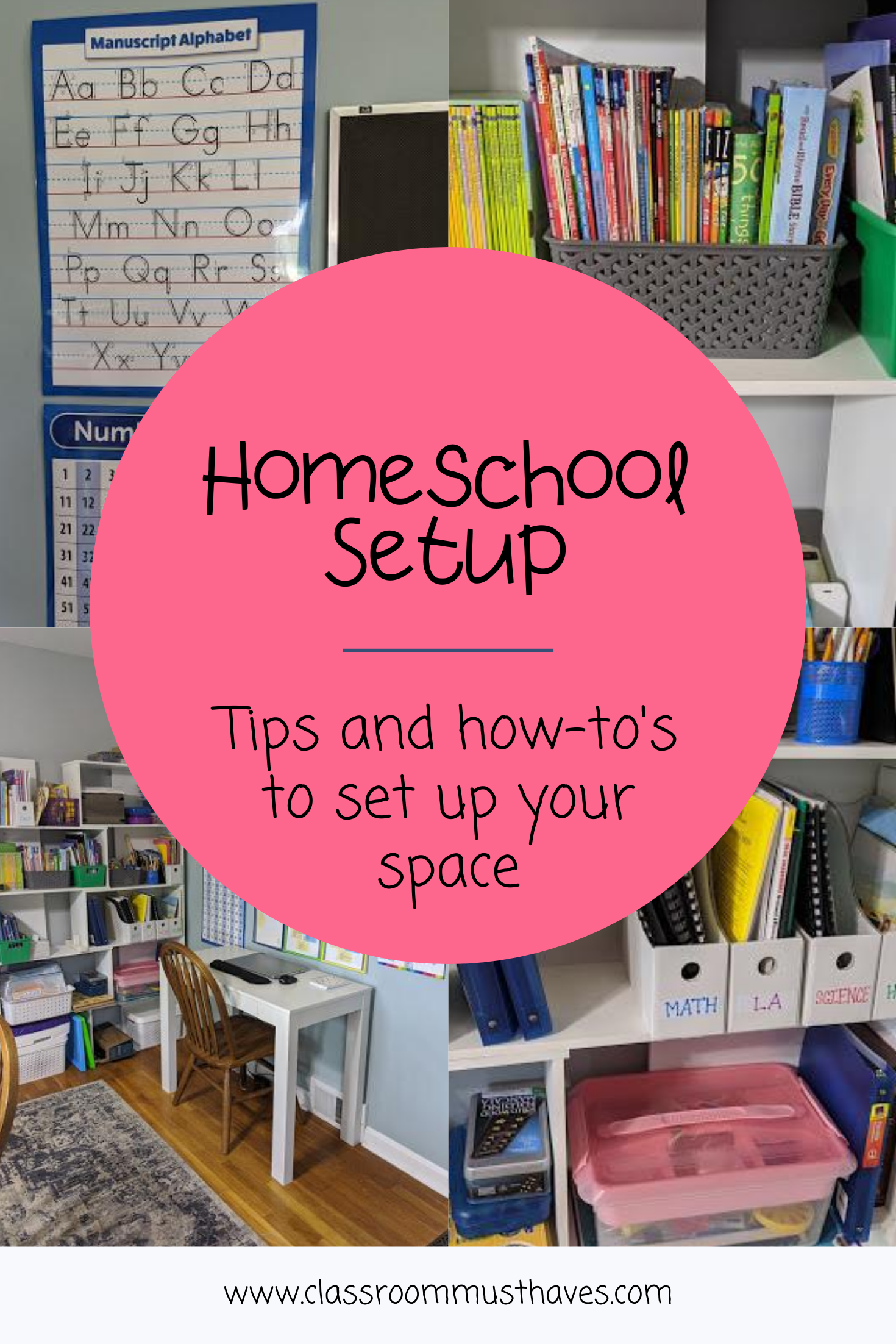 When setting up and organizing your homeschool area I can agree that it can be a super exciting and equally terrifying time! It can be tough to decide what you need, what you don't need, and how to best meet the needs of your children. Here I'll show you how I did my homeschool setup, items I used, and how I organized my area! Maybe you'll get inspired and feel ready to tackle your homeschool space!
Our Learning Space
Our house is on the smaller side so we utilized the corner of our dining room. We bought an inexpensive bookcase and a sturdy desk from Walmart. Our set up allows all our supplies, and books to be within arms reach.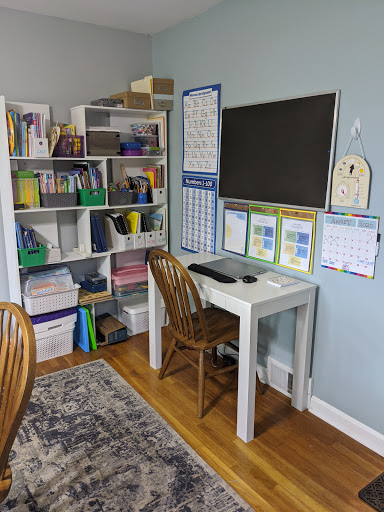 Bookcase
We use our bookcase to store all our supplies, games, curriculum, books, and more! You can purchase the Bookcase at Walmart for about $150. We chose this one because we initially weren't sure if we wanted the bookcase to be in the corner. This bookcase is adjustable and can fit in many different spaces.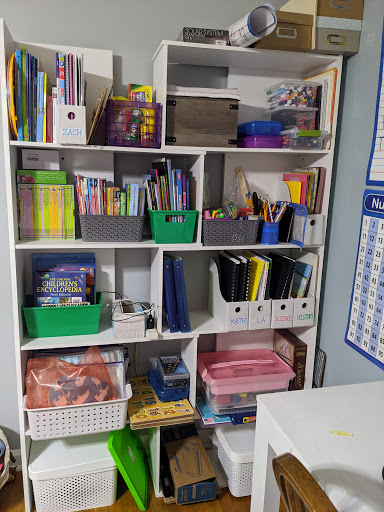 Supply Storage
I have my markers, crayons, glue, chalk..etc stored in clear bins that I got from Walmart. I like these because the kids can see what's inside of them and they're stackable. In those, I store notecards and the dry erase markers.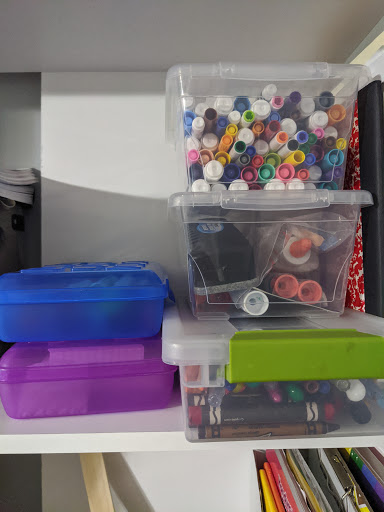 Pencils, scissors, rulers, dot markers, staplers, and all the other small school supplies that we use daily, I use a small open bin and a pencil caddy to keep all those handy. They are kept easily accessible so we don't have to take small bins down every day to look through. It makes my life easier as we are transitioning to each lesson!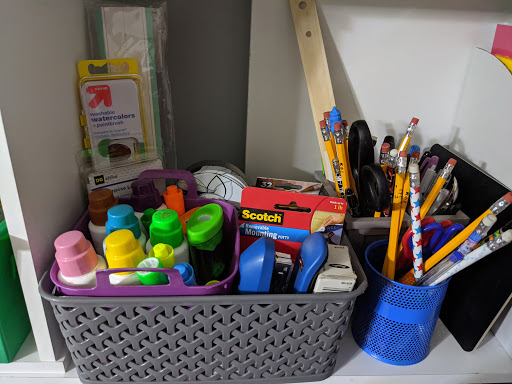 Book Storage
I store all my books in open bins. In the past when the kids would look for books on the shelf they would knock half of them down and they would just throw them back on the shelf. It was a mess! I ordered these open bins from Amazon to help solve the messy book problem. Now my kids can easily take a basket down and search for the book they want instead of looking on the shelf and knocking them all on the floor. It will make your life easier, promise!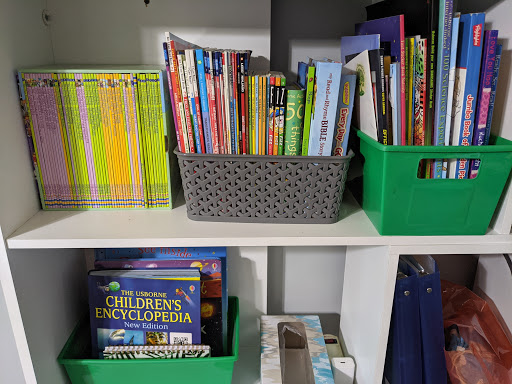 Curriculum Storage
I store my curriculum in magazine holders. I got these from Amazon and they work wonderfully. They are strong cardboard and keep everything nice and tidy. The magazine holders also come with labels. It makes transitioning from each subject easy and it gives a place for each subject's books, notebooks, and supplies to go. It's as easy as, "Time for Math! Jack, grab the math bin!"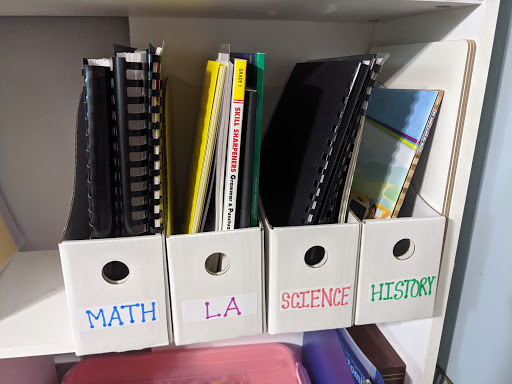 Game Storage
To store my games I use the following zipper pouches I got from Amazon. I used to keep all my games piled high in their original boxes but it got to be very cluttered! I cut out the name of the board game from the box, taped it into the pouch, and then put all the pieces in the pouch! It's very easy to store and the kids just zip back up the pouch and return it when they're done!
For a look at all my educational board games, check out my Top Reading Games Post!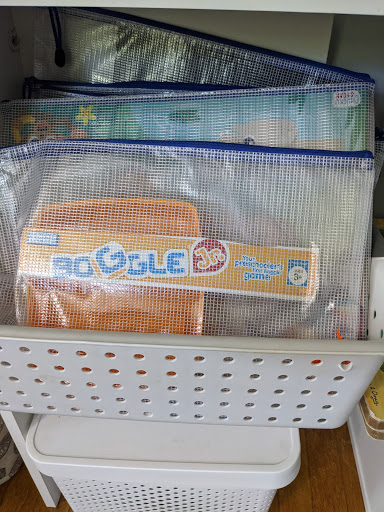 Wall Space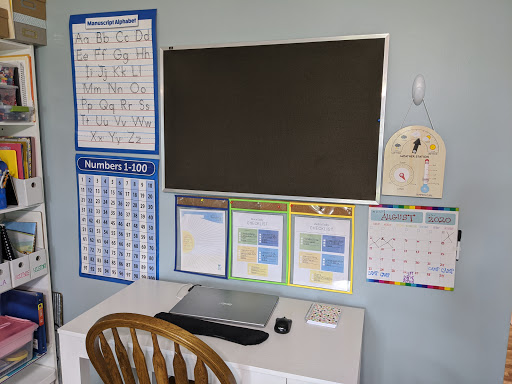 I love the wall space I have created for our work area. We hung a big corkboard for vocabulary words, sight words, and other important items. I also hung a small corkboard strip below it for our dry erase pouches. In these pouches, I keep our reading list page and the kid's daily checklist schedules. We utilize flexible daily checklists for each child and our day is complete when the checklist is complete, no matter how little or how much time that might take us. Learn more about our checklists here and to get your own for free.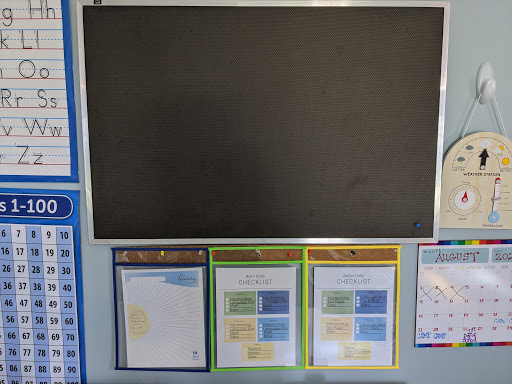 My son is in 1st grade so I bought these laminated 100 chart posters and handwriting posters to hang on the wall for reference. These are very durable and cheap. I highly recommend them if you are looking for something similar to hang!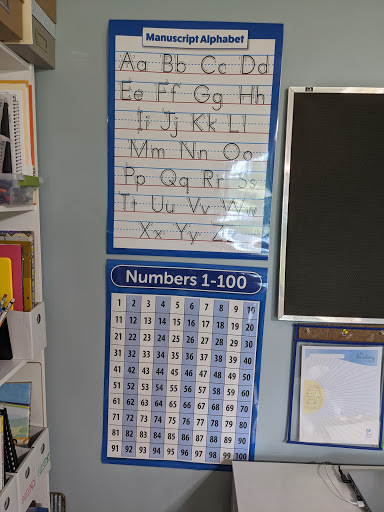 Lastly, I have our dry erase calendar and weather station hung on the wall. This is something we do every morning before we start. We discuss what day it is, cross out the previous day, and go outside and check on the weather. My children LOVE doing this daily!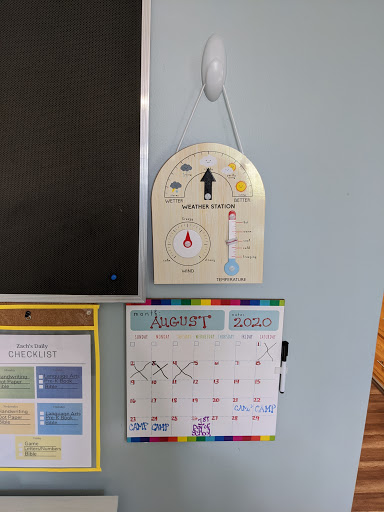 I hope you enjoyed seeing how I have my homeschool setup. I hope you gained some inspiration to get started on yours! Remember, it doesn't need to be fancy or look anything like mine! You do what works best for your family in the space you have available in your house!
If you want to see something I didn't mention or have any questions, ask below! Thanks for visiting!
For other free printables be sure to stick around a while and explore! Below are some of my most recent free printables!
CVC Word Builder Mat and ABC Cards